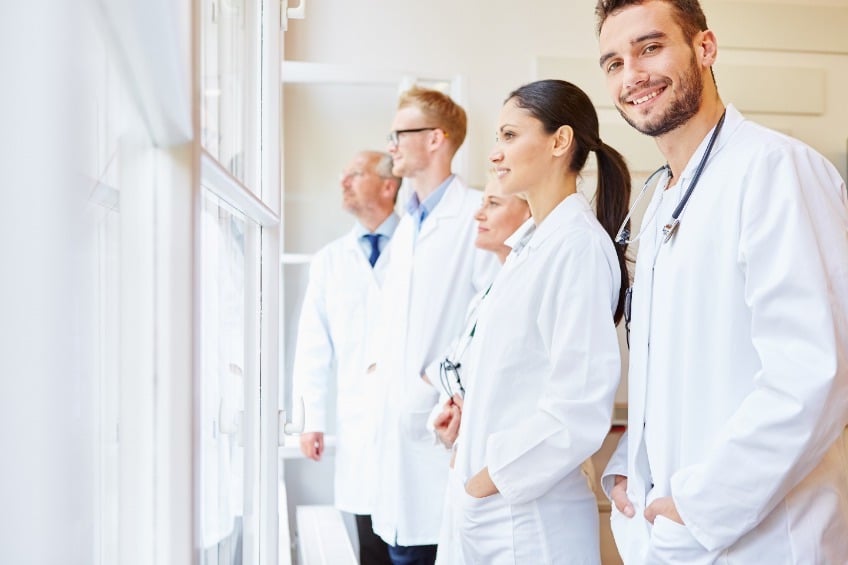 The cost of physician turnover and retention is staggering. According to a survey from Jackson Physician Search, recruitment costs can add up to $250,000 or more per physician (including sourcing, relocation, and sign-on bonus). Plus, lost revenue can easily exceed $1 million during a specialist vacancy.
There's no single solution to achieve physician retention. Still, one way to give your organization a better chance of retaining physicians is to implement strategies upfront in your recruiting. Recruitment expert and best-selling author Lou Adler – whose approach to sourcing and recruiting is outlined in his book Hire With Your Head – says selecting candidates for satisfaction and motivation often leads to exceptional long-term performers. While physician recruitment presents its own unique challenges, here is some inspiration from Adler's principles that could apply to physician recruiters:
Avoid making "yes" or "no" decisions during the interview itself

.

Instead, use the interview to collect the information you need to make your decision later. For instance, can the candidate explain what motivates them and why they're making a career move? Are they problem solvers? Are they "culture adds?" As we wrote in a previous article, the goal of healthcare organizations should be to evolve and become more inclusive over time. That means hiring physicians who bring different interests, values, and communication styles that can "add" to the culture your organization is building – versus hiring candidates that "fit" the culture you have today.

A few other questions you might ask: Do they want to be employed by a hospital or health system? In what type of community do they want to live? Do they want a completely patient-focused practice, or do they want to have a component of research included in their practice? According to Jill Clark, senior physician recruiter at UCHealth Medical Group, in an article for the American College of Obstetrics and Gynecology (ACOG), "the more focused the candidate is in their professional and personal goals, the more likely they are to find a job that is a good, long-term fit."


Control unconscious bias at every step in the process

.

In Adler's book, he says, "bias can prevent the strongest and most diverse candidates from being seen." According to

the

University of California, San Francisco

, e

veryone holds unconscious beliefs about various social and identity groups, which stem from our tendency as humans to organize social worlds by categorizing them.



As we wrote in an earlier article

, it's critical to understand unconscious bias

–

which is typically unfavorable

–

because it can easily creep into your recruiting and hiring decisions. H

ere are

two steps to reduce unconscious bias in your hiring.



Analyze Each Step of the Hiring Process.

Unconscious biases don't just happen at the interview stage; hiring is a series of steps. If you analyze each step, you may find bias in your advertising, application process, or interviews that you can learn from and change.



Check Yourself With Project Implicit

.

Project Implicit

is an excellent resource from Harvard.

Lyssa deHart

,

LICSW, MCC, BCC, says when she first encountered Project Implicit, she was surprised to see her implicit bias in one area. "W

ith that awareness, I began to challenge my automatic thoughts," said deHart. "Noticing the impact my biases had on my decisions was illuminating. I still check myself with Project Implicit several times a year to stay consciously aware."

A

ssess candidates based on their behavior, not just their training and skills.

According to Adler, this shifts the hiring decision to their ability and motivation to do the job.

During the interview, ask how a physician's training or specific experience relates to what you expect them to do in a role. Their answers can indicate how they'll perform. Plus, it gives you insight beyond the candidate's personality or how they present themselves in the interview.



Implement a consultative vs. transactional recruiting process

. Hiring for the long term requires a consultative rather than transactional process designed to fill open roles quickly.

As the cost of a physician vacancy mounts each passing day, it can be tempting to "just fill the position." But

long-term relationships are the key to recruiting success, according to

Staffing Industry Analysts (SIA)

: "

For many organizations, the recruiting process is transactional, and the relationship with talent is short-lived:

A candidate is either hired or passed over. End of story."

According to SIA, building relationships is an opportunity to fill roles faster in a competitive talent market like physician recruiting. Engaging with candidates and delivering a positive talent experience not only expands your talent pool but can also have a significant business impact.

When you apply a consultative process, you become a resource to physician candidates

. As we wrote in a

previous article, reaching out to candidates when you need to fill a position is important. However, there is also value in establishing long-term relationships with clinicians. Knowing the market is vital, and taking time to help educate and advise your candidates will earn their trust in the long run.



Use the "forget the compensation" approach when making offers

.

According to

Adler, a new position is about much more than money. Can your

candidate clearly describe why your position represents the best long-term career move compared to other opportunities they're considering?

Of course, physician candidates will ask about compensation, so it's helpful to have an informed view.

Doximity's 2023 Physician Compensation Report

was just released. It highlights changes in physician compensation over the last year and how burnout is affecting physicians. After all, physician candidates often rely on recruiters to gauge the dynamics – and the competitiveness – in the area where they're interested in finding a new position.
We highlighted other ideas to support physicians better and improve retention efforts in a previous article, 7 Actionable Ways Recruiters Can Help Improve Physician Retention, which we invite you to read now.
Addressing issues that allow physicians to excel long-term and provide better patient care is part of what we do at Doximity. We're also here to help physicians – and the recruiters they rely on for information – learn about factors that help them make informed career decisions. Doximity's 2023 Physician Compensation Report was just released. Join us for a webinar on April 18, 2023, where we dive deeply into the report.