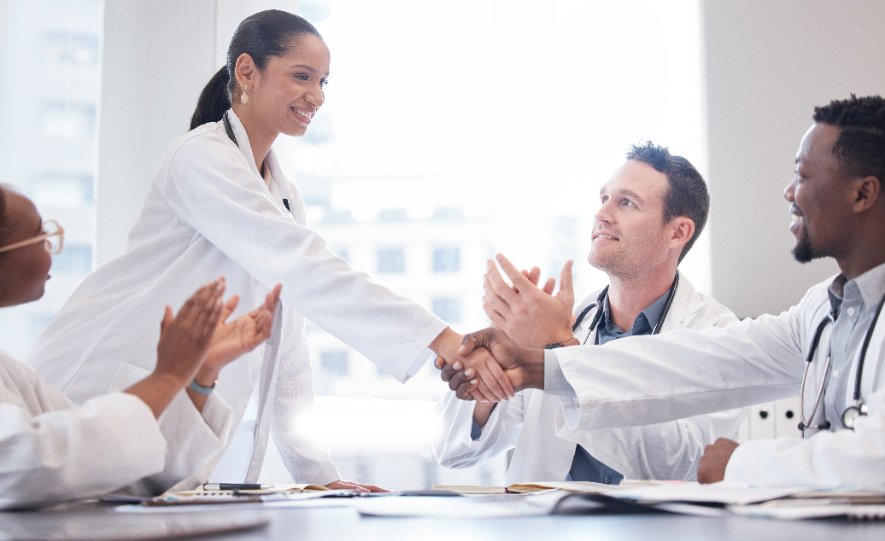 Over the last two years, we've experienced a significant shift in the physician workforce. A recent survey from CHG Healthcare found that 43% of physicians switched jobs during the pandemic, 8% retired, and 3% left medicine to work in a non-clinical career. While retention strategies have always been vital for healthcare organizations, they are especially critical now as many physicians and healthcare workers continue to struggle with overwork and burnout due to the pandemic.
"There has definitely been a shift in physicians no longer being willing to work 100-hour weeks and have no life outside their jobs," says Leslie Snavely, Chief Sales Officer at CHG Healthcare. "They're clamoring for roles where they're not overworked, feel heard by their administration, and are treated like valued caregivers."
CHG conducted a survey earlier this year to better understand the primary motivators for physicians making a career change. A better work/life balance was more than double any other motivator.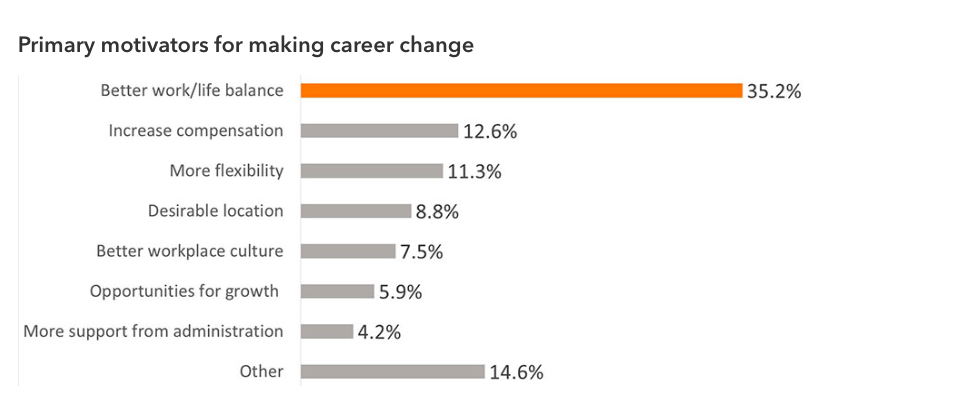 Below is a list of seven actionable steps healthcare organizations and physician recruiters can take to better support physicians and improve retention efforts:
1. Offer unique benefits that prioritize physician wellness, flexibility, and work-life balance. Compensation isn't the only thing of importance to physicians. To keep their doctors engaged and strengthen their loyalty, Baptist Health in Jacksonville, Florida, offers perks like a financially supported nursery for childcare, training remuneration, and flexible schedules. They even help first-time home buyers by giving loans of up to five thousand dollars.

2. Offer professional development programs to help physicians grow at your organization. From tuition assistance to online training courses and more, offering professional development opportunities can show physicians that you're committed to supporting their growth. A recent example of a professional development opportunity is the Michigan Health & Hospital Association (MHA), announcing a partnership with the American Association for Physician Leadership (AAPL) to provide leadership education and training to MHA physician members.
3. Build a commitment to the health and safety of workers into the fabric of your healthcare organization. The U.S. Surgeon General's Office recommends that organizations review and revise policies to ensure that health workers are not deterred from seeking appropriate care for their physical, mental, and/or substance use challenges. Katherine Virkstis, a physician and Managing Director and Senior Research Partner for Advisory Board, says they identified "cracks in the foundation" and now offer an emotional support resource library where team members can find actionable resources to help them, from carving out personal time to feeling safe at work.
4. Make retention a focus of onboarding. Onboarding can set the tone for a physician's entire experience and give you a strong foundation for retention. We previously offered 5 Tips for a Well-Defined Onboarding Program (That Will Make Physicians Want to Stay) that remains helpful. At Parkview Health, Angela Pulcini, director of provider services, says their onboarding includes staying in touch with their providers throughout their first year. "Parkview assigns a physician mentor to them, as well as a navigator who guides them through the pre-hire process and then stays with them throughout the first year."
5. Ask for feedback from clinicians and act on what you learn. Whether formal or informal, it is important to act on feedback. Reid Health's Physician Engagement and Resilience Committee (PERC) started a feedback loop process. Anyone can fill out a concern, and the committee meets monthly to review all of them.
6. Help physicians and their families build strong ties with the community. If a physician and their family build lasting ties, hospitals hope they'll be less likely to leave. Jessie Pondell, manager of talent strategy for Prevea Health, says, "we work with our chamber of commerce, which has great programs to help people get integrated in their community. When family, partners, and spouses find opportunities within our community, their job is not the only thing keeping them here." To mitigate burnout and feelings of loneliness and isolation, the U.S. Surgeon General's Office also recommends rebuilding community and social connections among health workers.
7. Establish success metrics and track performance to ensure you're making progress. This will vary by organization, but here are a few things you might want to keep in mind: Are you supporting your full-time staff by hiring locum tenens physicians to fill in any gaps? Are your physicians staying longer compared to previous years?
The holiday season is rapidly approaching and November and December are great months to recruit clinicians. Grab a seat for our November 8, 2022 webinar to learn how to be more efficient with your holiday recruiting.