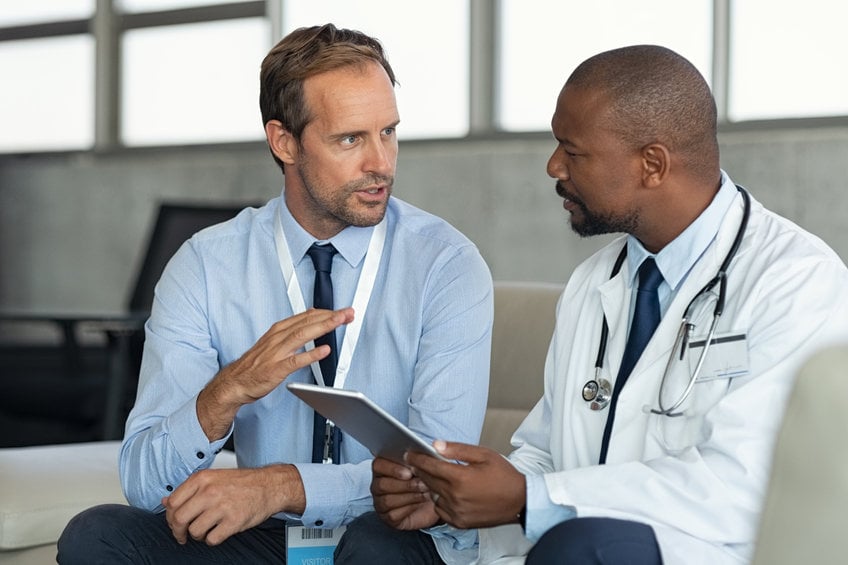 Hiring and retaining staff is the #1 challenge for recruiters, hospitals, and healthcare facilities in 2022. We offered some tips in a previous article to ensure you're recruiting, hiring, and retaining top physicians, but are you planning for coverage, too?
Without an effective recruiting strategy, the physician shortage can cost you revenue. A physician vacancy can also significantly affect access to care for patients – an issue plaguing the industry and one that can hinder your healthcare facility's ability to grow. Recent data proves it: 83% of patients now say quality customer service is the most important factor they consider when choosing health care (per Silverline).
One big hurdle, given the current physician shortage, is how much time it actually takes to find suitable candidates. On average, time-to-fill a Family Medicine or Internal Medicine vacancy takes 180 days. Other specialties such as Neurology can take as long as 211 days, and some surgery specialties can be over 230 days (per AASPR). To plan and prepare for mitigating physician shortages, we looked to industry experts for some best practices. Here are five steps you can take now to plan for physician coverage now.
Include physicians in the development of your strategies. If you're not engaging doctors to gain their insights, you have a problem, per AHA. In the longer term, physicians must deliver reliable outcomes and lower costs, so they're in an excellent position to identify how to deliver that value. What's more, physicians want to be integrated into the decision-making process and receive feedback for their ideas. They're deeply invested in delivering better care to patients and shaping their work environment in positive ways. Include them for planning coverage, and you'll go far.

Implement continuous recruitment. The goal of constant recruitment is to create a list of candidates who have expressed interest in joining your organization when an opportunity arises. It can significantly reduce your time to fill the position and help your bottom line. During a negotiation with a candidate, the last thing you want is to sound or be desperate. Continuous recruitment ensures you have an ongoing funnel of candidates that allows you to recover from an unexpected problem – and maintain leverage for negotiations.

Plan for locum tenens coverage, but do it as far in advance as possible. Ben Gibbons, a senior client representative for the CompHealth Locum Tenens Hospitalist Team, says, "If you want to optimize your chance at having the coverage you need, your schedules need to be out six months." That requires gathering everyone's paid time off and preparing for it. "Have a really solid idea of what holes you're going to have so you know what you need to tackle."

Make physician mental health a top priority. Doctors aren't immune to life-and-death situations and the toll it takes on them, emotionally and physically. According to the National Institutes of Health, burnout is usually the final stage of a long, slow process of exhaustion, and the pandemic has only added to burnout among physicians. More and more doctors are seeking early retirement, others (including locums) are taking extended time off to rest and recuperate, while others have left the medical field (per CompHealth). Improving physician satisfaction means implementing ways to beat burnout. Here are some specific tips for implementing practices to beat physician burnout.

Hire for Fit. The experts at Jackson Physician Search define hire for fit as focusing on finding a physician that will thrive within your organization. To hire for fit, you need to have a good handle on your workplace culture. Engaged physicians are 26% more productive and generate 51% more inpatient referrals! The cost of a bad hire can hurt you in the long run too. The wrong hire means you have to go through the lengthy and costly recruitment process again. A bad hire can also cost you revenue through inefficient and underproductive care, loss of patient loyalty, or worse, drive good physicians away.
The last two years have brought significant changes to recruiting, and planning physician coverage has never been more critical. Put the power of planning to work, and you'll have a pipeline of great candidates when the time arises.
Ready to optimize your recruitment messaging? Believe it or not, the words you put in your subject line can have a significant impact on the number of potential candidates you attract for your available jobs. Join us on March 8th for a special webinar: The Best Subject Lines to Use this Year.