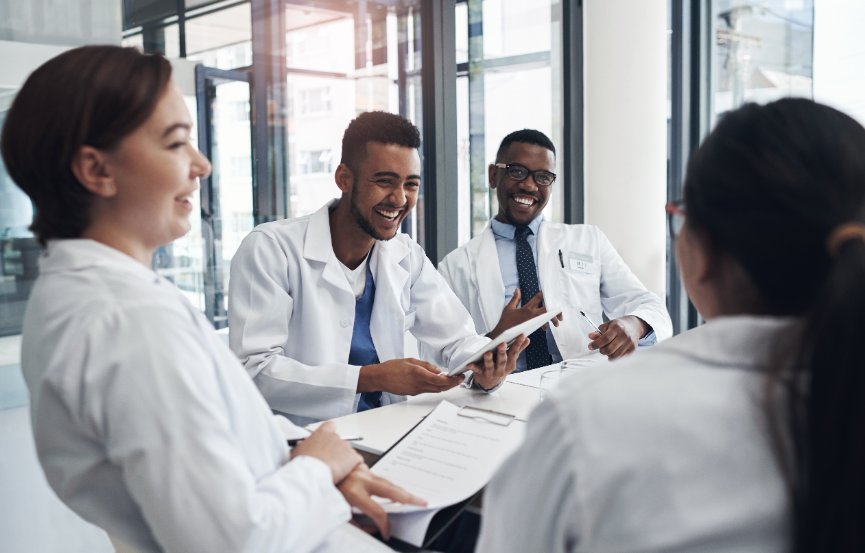 Physician recruiters are familiar with the physician shortage. Access to care sets the baseline for all healthcare, and the impact of the shortage is affecting historically marginalized and under-resourced populations disproportionately. Patients living in rural areas, for example, are more likely to struggle to access their clinician than a patient living in an urban or suburban area, per Patient Engagement. A September 2021 report from the Kaiser Family Foundation noted that 83.7 million people in the U.S. live in a designated primary-care health professional shortage area (HPSA).
Beyond basic access to healthcare, recent data also indicates the U.S. physician workforce does not sufficiently reflect the nation's increasingly diverse patient population (per the American Medical Association). Data below from the AMA helps put this discrepancy into more perspective.
Hispanic people make up 18.5% of the U.S. population, but only 5.8% of the physician workforce

Black people make up 13.4% of the population, but 5% of the physician workforce

Native Americans or Alaska Natives make up 1.3% of the U.S. population, but 0.3% of the physician workforce
According to the Robert Wood Johnson Foundation, diversifying the healthcare workforce has the potential to enhance the patient experience by improving the level of culturally competent care provided. In addition, a diverse physician workforce has the power to help us overcome the physician shortage, per the American Medical Association (AMA).
The U.S. needs more doctors and, ideally, a more diverse physician workforce that understands and can respond to the various needs of a broad and diverse patient population. Physicians of multiple races, ages, genders, ethnicities, and orientations offer a wide range of experiences and backgrounds that can help:

Better address individual patients' needs, including personal language and cultural preferences;

Build more patient trust and confidence because physicians

better reflect the communities they serve;

Help improve morale at hospitals or healthcare organizations, with data showing that

more than three out of four people prefer a diverse workplace

.




A diverse physician workforce also provides mentors for the next generation, according to Fola Babatunde, MD, a Cardiologist. "It is not just a matter of meeting a certain quota of women, ethnic minorities, or other underrepresented people. When we allow people to bring their unique backgrounds to work, we can open the door to new innovation and collaboration. Diversity does not work if everyone still talks and acts the same. The beauty of diversity is when it shows us there is more than one way to be an effective physician."

There are a number of ways your hospital or healthcare organization can prioritize diversity, but recruiters play an important role, too. Here are four ways you can help improve diversity in healthcare:
Focus on yourself and any unconscious bias you may have (everyone has them, but are you aware of yours?). U

nconscious bias can easily creep into your recruiting and hiring decisions and

may lead you to select some candidates over others. Check out

How Unconscious Bias Affects Recruiting (and How to Overcome It)

in one of our previously published articles.

Invest in long-term relationships with physicians and physician groups from underrepresented communities to build trust and help expand your recruitment pipeline – and continue to keep that pipeline warm.

Reduce inequities in your hiring process that may limit diversity. The hiring process includes several decisions and choices that can help or hinder more diverse representation. One way to reduce these inequities is to create a standard interview process that you follow for every candidate. "If you ask one candidate one thing, but you don't focus on that same question with another candidate, it's not the same experience," says

Daniel Benavides

, manager of talent acquisition at CHG Healthcare, CompHealth's parent company. "It needs to be the exact same experience for every candidate you're running through your process, so it's an even playing field."

Read the AMA's

strategic plan to advance health equity for inspiration

. It outlines five guiding principles that can help tackle today's challenges.
It's also important to remember that the goal of promoting diversity isn't only to have a more diverse healthcare workforce – it's to have an overall improved U.S.healthcare system. Ultimately, culturally-aligned care is essential for reducing racial and ethnic disparities and achieving health equity for all.
Are you making end-of-year and 2023 recruitment plans? Talent Finder's Client Success Team created a checklist for physician recruiters. We invite you to view it here.