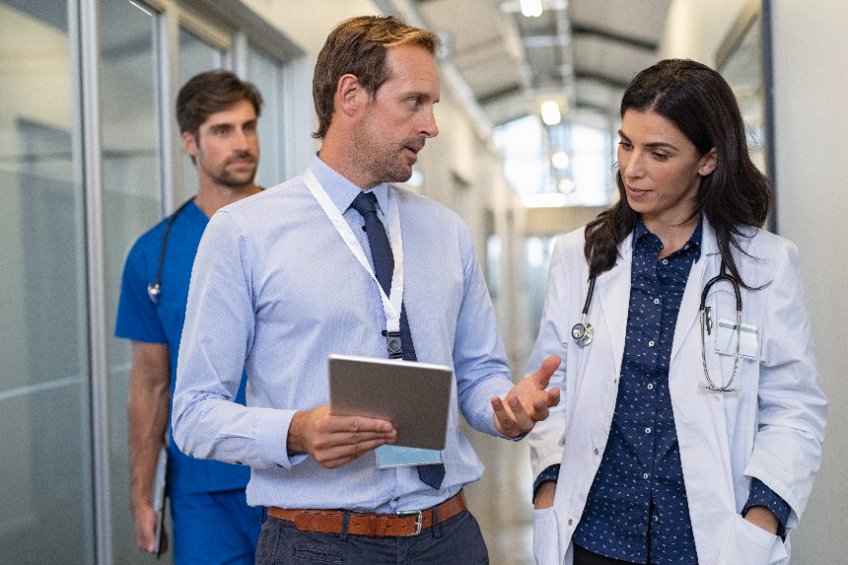 Have you ever heard about a job opportunity and thought, "I know someone who would be perfect for this?" The clinicians at your organization have probably thought the same thing. They have connections with other physicians, and their referrals can benefit your recruiting efforts in numerous ways.
Looking within your organization for referrals can extend your reach to both active and passive candidates, making your recruitment efforts more efficient. The Society for Human Resource Management (SHRM) reported that internal referrals accounted for 29% of healthcare positions filled in 2018. That's nearly a third of open positions!
According to Lou Adler in The Essential Guide For Hiring & Getting Hired, the chances of a referral candidate getting a job is almost ten times more likely. As we highlighted in a previous article, referral candidates are also faster to hire, often come with a lower cost per hire, and are likely to stay with the organization longer. Here are some additional benefits of referral recruiting:
The physicians working at your organization often have good insight into the requirements of the job, making them uniquely positioned to refer candidates who fit the opportunity.
Candidates referred by physicians within your organization often get an internal perspective of your organization's culture – something that's hard to communicate in a job posting or initial interview.
When you ask doctors for referrals, they become part of the recruitment "team," which can make them great long-term recruiting partners.
Referral hires already have a connection to current employees in your organization, which can positively impact both initial interest and long-term retention rates.
How do you leverage your organization's internal talent pool? We have five tips to get you started.
Ask your physicians what prompted them to apply for positions within your organization and implement their feedback into your recruiting process. You could even ask for a "testimonial" for your outreach.
Coordinate peer interviews. Most candidates want to know what a typical day may look like or how they'll fit into the working environment in a new role. Allowing candidates to interview with a physician who is currently working for the organization is a great way to give them an inside look.
Hold "meet and greets" with referral candidates. Meeting physician candidates in a social atmosphere can help you learn a lot about them. If the event also includes other physicians they know, it's likely to put them at ease and help them get a better sense of the organizational culture.
Create a formal referral program. Your organization may have an internal job board, newsletter, or emails that advertise your open roles, but having a formal referral program in place – possibly with incentives for hires made – makes it simple (and more appealing) for employees to share jobs with colleagues, family, or friends.
Put Talent Finder to use to learn more about referral candidates and identify new prospects. Are there other factors (beyond the referral) that make them a great candidate? Perhaps they attended medical school in the local area or completed their residency nearby. Another connection might make them more inclined to explore your position.
Improved quality of care is a shared goal in healthcare, and it starts with great hires. Looking within your organization for referrals can help you reach candidates you may not find otherwise – and tap into an audience of qualified new hires. So, now is an excellent time to ask other physicians, "who do you know that might be a fit for this opportunity?"
Ever wonder what physicians see on Doximity? Are you curious how your Job Posts appear to them? Or how they receive your DocMail messages? During our October user training session, we'll be diving into Doximity from the clinician's side. Join us on October 11, 2022. Grab a seat today.