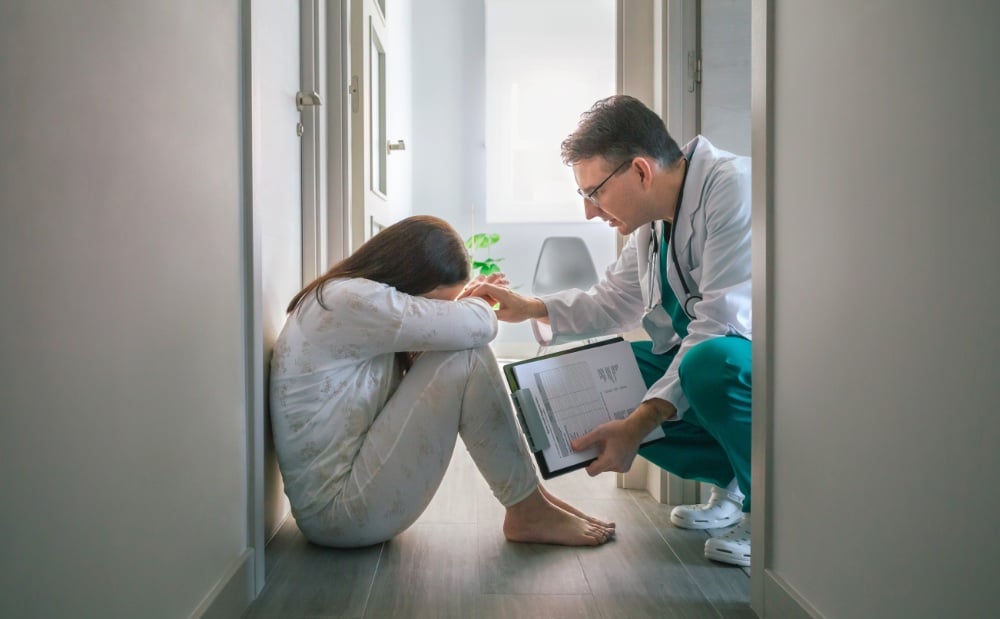 According to a statement from The White House, the U.S. faces an unprecedented mental health crisis affecting people of all ages. The COVID-19 pandemic caused a surge in mental health issues, with rising rates of depression, anxiety, grief, and substance abuse. Recent reports indicate that more than one in five U.S. adults is living with some sort of mental illness. Unfortunately, the country also faces a severe shortage of mental health professionals, making it difficult to provide adequate care to everyone in need.
"The U.S. doesn't have enough providers, and they are not located in the right places or providing the right services to meet Americans' needs," per The White House fact sheet. "Even where there are sufficient providers, the fragmentation and inconsistency of the current system can make it difficult for people to find the right level of care."
According to the Association of Medical Colleges (AAMC), the need for treatment is expected to rise as the number of psychiatrists continues to fall, and this shortage is not confined to psychiatrists. Psychologists, social workers, and others are also expected to be overextended.
This article explores the state of the mental health crisis and key drivers behind the psychiatry shortage. A second article will highlight some of the steps healthcare leaders propose to address this critical issue.

#1 - Factors driving the psychiatrist shortage

According to Psychiatric Times, the aging psychiatry workforce may be an important factor. The average age of practicing psychiatrists is 55, the third oldest of all the specialties. According to the National Council for Mental Wellbeing, psychiatrists are also experiencing low job satisfaction and high rates of burnout. Some key drivers of this burnout include administrative burdens, such as increased documentation and data entry requirements, limited time with patients, and barriers to collegial collaboration and information sharing that can provide better-coordinated care. The surge in anxiety, depression, grief, and substance abuse during the pandemic further exacerbated this issue, with over 122 million Americans (over one-third of the population) now living in a psychiatric shortage area.
#2 - The psychiatry shortage affects U.S. states differently

Overall, the U.S. will reach a shortage of between 14,280 and 31,091 psychiatrists by 2024, with more than 150 million people living in federally-designated mental health shortage areas. Although each state has gaps to fill, the size of these gaps vary from state to state. According to US News & World Report:
Wyoming and Utah have the largest proportion of their populations living in mental health shortage areas, at 96.4% and 83.3%, respectively.

New Jersey and Massachusetts have the lowest proportion of their populations living in areas with mental health shortages at about 0.4% and 4%, respectively.

While 15 additional mental health providers would resolve the shortage in Delaware, Texas would require an additional 638 mental health professionals to close its gap.
#3 - Mental health issues have a high impact on children and teenagers

Mental illness and the demand for psychological services are at an all-time high—­especially among children, and suicide is the second leading cause of death among adolescents. U.S. mental health workforce shortages have been associated with increased youth suicide rates. According to CDC data, from March 2020 to October 2020, mental health-related emergency department visits increased by 24% for children aged 5 to 11 and 31% for those aged 12 to 17, compared with 2019 emergency department visits.
Teen mental health is in crisis, but it affects different groups of teens differently. For example, Time Magazine says teenage girls are facing a mental health epidemic. Based on CDC data, the article reports, "nearly one in three high school girls considered suicide in 2021, a 60% increase since 2011. More girls also now report feeling so sad and hopeless they couldn't engage in their normal activities for at least two weeks in the last year."
According to another CDC Survey, LGBTQ+ youth have reported poorer mental health and more suicide attempts than others. About 75% said they suffered emotional abuse in the home, and 20% reported physical abuse. By comparison, half of the heterosexual students reported emotional abuse, and 10% reported physical abuse.

Across the U.S., more people are seeking mental health treatment, but there aren't enough psychiatrists to meet the demand. Reducing burnout among psychiatrists and improving patient access to mental health care requires actionable ideas.
Watch this space for part two of our series, which will focus on steps to address the worsening psychiatry shortage.
Helping physicians be more productive so they can provide better care for patients is a top priority at Doximity. That's why top hospitals and healthcare organizations use Doximity Talent Finder to recruit physicians. In 2022, primary care specialties, including psychiatry, family and emergency medicine, and obstetrics and gynecology, were the most highly recruited specialties on Doximity. If you're not using Doximity Talent Finder, we invite you to request a demo now.
For more information, mental health care resources, and support, visit the National Alliance on Mental Illness (NAMI). Their HelpLine can be reached Monday through Friday, 10 a.m.–10 p.m. ET, at 1-800-950-NAMI (6264).