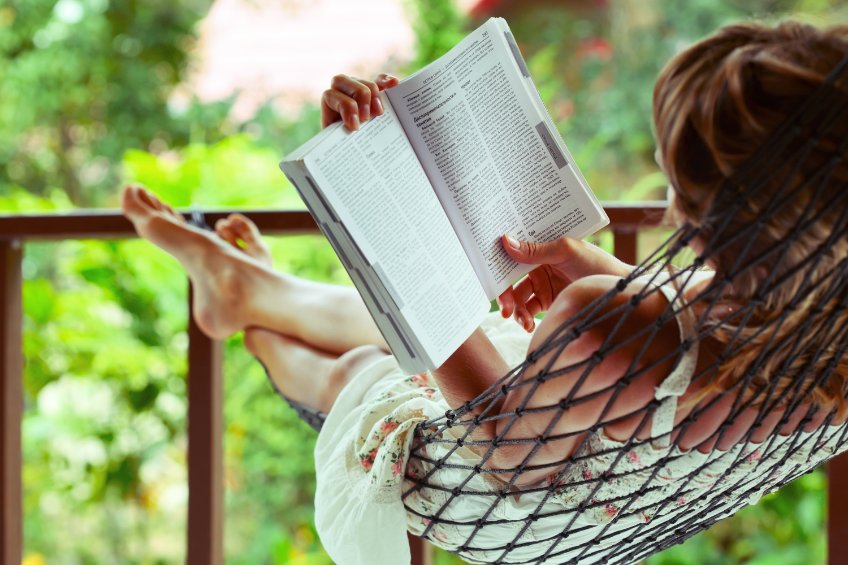 "What an astonishing thing a book is, one glance and you're inside the mind of another person," Carl Sagan once said. And there's no better time to read than during summer. Whether you're beachside, in a tent on a mountain, or putting your feet up on your porch, reading is one of the quickest (and most enjoyable) ways to expand your professional knowledge while you unwind.
The Doximity Team has a small tribe of self-proclaimed "book nerds," so we rounded up a list of good reads that will help you build knowledge, confidence, and skills. We've also included podcasts for a great listen when your eyes need a break. Enjoy!

1. Betting on You: How to Put Yourself First (and Finally) Take Control of Your Career
By Laurie Ruettimann
This author (and Punk Rock HR Podcaster) is a top career coach and HR consultant, and she knows firsthand "that work can get a hell of a lot better." Through candid anecdotes and easy-to-adopt steps, Ruettiman shares her personal experience of being unhappy, uninspired, and blaming others for her unhappiness until she had an epiphany. Betting On You is an essential read if you want to snap out of autopilot and become your own best advocate.
2. Radical Candor: Be a Kick-Ass Boss Without Losing Your Humanity,
By Kim Scott
Recruiters will enjoy Radical Candor for several reasons. First, you may be leading a team of recruiters, and if you're not now, you may be in the future. This New York Times Bestseller explores how to create a better relationship in the workplace by leading with radical candor. It offers practical advice and stories from the author's experience. If you're a manager or aspire to be during your career, this book gives you insight into what traits make a successful manager. It will also help you become a caring leader as you challenge your team.
3. Hire With Your Head
By Lou Adler
We love the title of this book, plus we're fans of the author. An influential recruiting and hiring expert, Adler delivers a practical guide to consistently identifying and hiring the best people and scaling that process throughout your organization. The book isn't new, but the 4th edition is beneficial for using performance-based hiring to build diverse teams. It's perfect for hiring managers, recruiters, and leaders and is considered a must-read resource if you want to improve your ability to find, attract, and retain the top talent the world has to offer.
4. Strengths Finder 2.0 (a free ebook - a.k.a. CliftonStrengths)
by Tim Rath
Whether you want to improve yourself, or if you're a leader who wants to empower people to perform better, StrengthsFinder 2.0 + online materials can help recruitment and healthcare professionals better understand and utilize their strengths. Based on an assessment invented by Don Clifton (which helps uncover your unique rank order for 34 CliftonStrengths themes), the author explains how YOUR strengths make you uniquely powerful. Research shows that people who know and use these strengths are more engaged at work, more productive in their roles, and happier and healthier.
5. Best Hire Ever (Podcast)
Kris Dunn, Host
This podcast explores a simple truth: "there's nothing that drives success at your company more than making a great hire. Make your BEST HIRE EVER, and you'll sleep better, work fewer nights and weekends, and you might even start being talked about as the guy or gal who's just naturally a great developer of talent." Kris Dunn, the founder of Fistful of Talent, the HR Capitalist, and author of The 9 Faces of HR, digs into hiring top talent with undeniably talented corporate leaders, recruiters, and candidates. In Episode 27, for instance, Dunn talks with Stephanie Lilak, the CHRO of Dunkin' Brands, who shares her favorite interview questions, how she works to make sure Dunkin' gets the talent it needs, and what she's learned that nobody told her.
With knowledge and confidence comes more opportunity for career advancement. Reading is an engaging and affordable way to learn about the recruitment world – and build confidence in your skills and abilities. Of course, the Doximity Talent Finder Blog is a great destination to quickly read up on trends and happenings in modern recruitment. There's always something to learn in our webinars, too. Please join us on July 12, 2022, to learn how to Recruit Active vs. Passive Candidates. You'll learn how to identify candidates, how to message each type of candidate, and how to reach out at the right time. Save your seat soon.