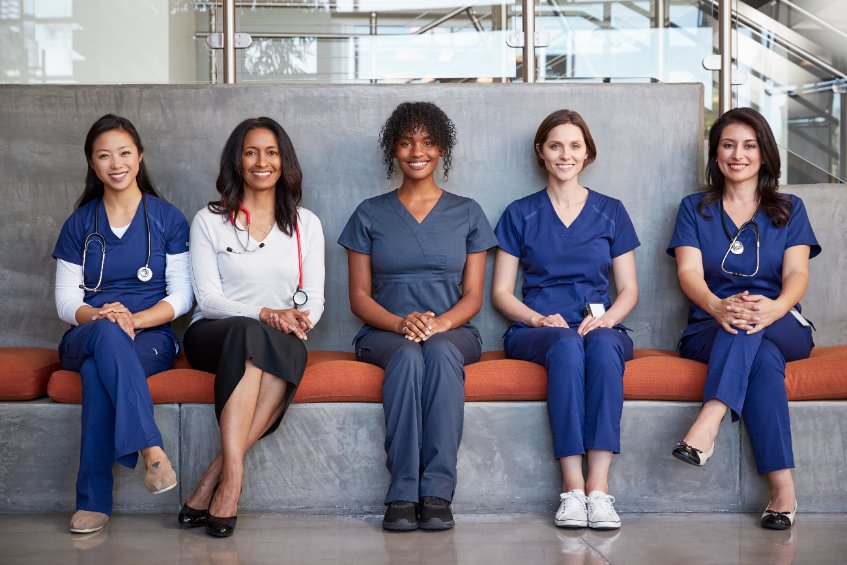 "Do not underestimate the impact your voice, your perspective, your knowledge, and your vulnerability will have on this ever-expanding field." -Dr. Elizabeth Blackwell, the first woman to receive a medical license in 1849
---
Women physicians are integral to patient access and patient outcomes, especially long-term. Medical Economics reports that patients who see a female physician are less likely to be re-hospitalized within 30 days or succumb to their illnesses. Yet research from the Journal of American Medical Association (JAMA) shows that a significant proportion of women physicians are no longer working full-time or are considering cutting back on their hours.
Women physicians, in particular, appear to have been disproportionately affected by Covid disruptions, according to Doximity's 2021 Physician Compensation Report, which shows there are gender-based differences in sentiments relating to overwork, burnout, and early retirement. When women were asked about their career plans, 25% of female physicians said they were considering early retirement because of overwork.
Understanding the challenges women physicians face and advocating for equity and change are vital to recruiting women in medicine. As we celebrate Women in Medicine Month, it's important for recruiters to be aware of the challenges women physicians face.
The biggest obstacle to women's progression in medicine, per the American Medical Association (AMA), develops in the transition from manager to senior manager. Women represent about 80% of entry-level front-line positions. However, as they move up the ladder, women only account for about 30% of C-suite roles. AMA recommends training, sponsorship, and high-profile assignments as methods of elevating women into different positions. Despite obstacles to advancement, nearly 75% of women in medicine report satisfaction with their careers, and as they move up the ranks, that satisfaction increases to 91% at the senior vice president level (per the AMA).

More diversity provides measurable benefits for medicine and is inherent to addressing patients' healthcare needs – from language and culture to confidence and comfort. Plus, it builds trust and confidence within communities. Rural America is uniquely affected by a lack of female physicians because it limits access to care for women patients – who often prefer women clinicians and appear to complete more screening tests when women physicians are caring for them.

The other obstacle for women? The gender pay gap. Data from Doximity's most recent Physician Compensation Report revealed that the gender pay gap among physicians was 28% this year. In fact, female physicians earn an estimated $2 million less than male physicians over a simulated 40-year career, according to HealthAffairs. What else do women physicians want? Most of their stress comes from not feeling supported at work, according to the National Library of Medicine. They want time off for parental leave, more flexibility to help them balance work and family responsibilities (like onsite childcare), and more time for professional development.

Other key groups of women in medicine who are uniquely impacted by obstacles are women of color (WOC) and trans women. With the AAMC reporting that 54% of women in the physician workforce are white, there's still a lot to be done to ensure women of color and trans women are more visible in medicine – and have more opportunities to advance in the field. To that end, the Women of Color Initiative, a new collaborative initiative to address the visibility, awareness, and advocacy of women in academic medicine from an intersectional lens, has been introduced to provide a platform for women of color in academic medicine.
Some hospitals and healthcare facilities arealso making great strides for women in medicine. Tampa General Hospital's (TGH) commitment to advancing women helped it rise 12 spots this year to earn the distinction of being No. 1 on Forbes' annual ranking of America's Best Employers For Women. With a strong record of promoting women into senior management – half of their C-Suite executives are women, and 70% are VPs – TGH provides flexible work options and scholarships for continued education. The organization also provides an employee emergency fund for those in crisis, back-to-school supplies grants up to $600 per employee, and classes that focus on education and leader development at no charge (per Forbes). Many other healthcare organizations made the list of top workplaces for women, including the University of Utah Healthcare, UCLA Health, MD Anderson Cancer Center, and Scripps Health.

Healthcare organizations can't afford to lose women physicians. Harvard Medical School's Sareh Parangi, MD, says, "More women are choosing to become pediatricians than are choosing to become neurosurgeons, that's true, but the gap persists within specialty, too, especially in male-dominated specialties like neurosurgery where women aren't just a minority, they're almost an anomaly."

If you're recruiting women for new opportunities, does your strategy address the challenges female physicians face? Asking women candidates about the challenges they face can give you meaningful insights.

Doximity publishes Physician Spotlights based on interviews with doctors that shed light on the challenges they face today. We recently highlighted Fatima Cody Stanford, MD, MPH, MPA, FAAP, FACP, FTOS, an obesity medicine physician-scientist at Massachusetts General Hospital and Harvard Medical School. We invite you to read her story now.