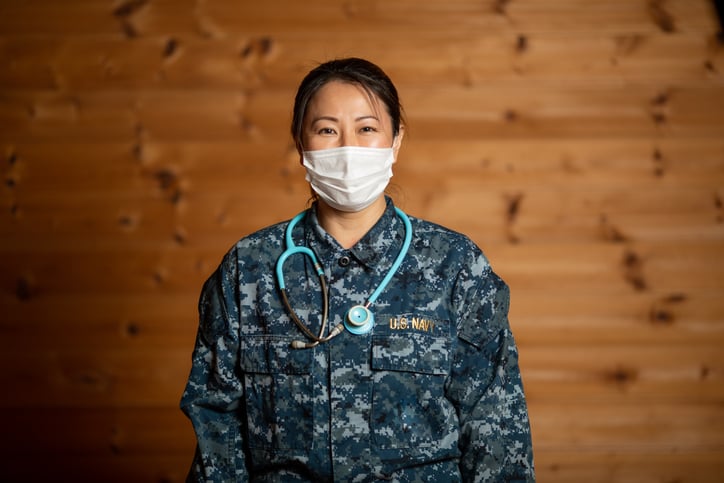 Today is Veterans Day, a time to reflect on and thank veterans whose contributions go well beyond their military service or uniform. Veterans now serve as our nation's leaders, entrepreneurs, scientists, and yes, doctors and advanced practitioners, too. One way to say "thank you" to veterans is to consider them for your open opportunities.
During these unpredictable times in particular, hiring veterans can give you a competitive advantage. It's not easy to come by people who offer the skills and resourcefulness we need to navigate the uncertainty caused by the recent pandemic. "There is one talent pool that is ripe and ready for just this type of situation. They are our veterans," says H.V. MacArthur in a Forbes article.
Military veterans also train to achieve goals during chaotic times! They've trained to be great leaders and typically bring strong leadership to their roles. Veterans have a strong work ethic (being lazy just doesn't cut it in the military). They're dedicated collaborators and problem solvers who often become pivotal team members. Most veterans are highly skilled at remote work situations (think telemedicine). And they're accustomed to leveraging what they have.

Some specific employer benefits come with recruiting and hiring veterans, too. For instance, when a vet moves for a job, their relocation expenses may be covered by a VA relocation assistance program. Your healthcare facility can also earn tax credits. According to military.com, businesses that hire eligible unemployed veterans can take advantage of a Work Opportunity Tax Credit (WOTC). After recent changes, The Returning Heroes Tax Credit now provides dollar incentives for hiring unemployed veterans and more.

If you're ready to recruit military veterans, we have a few tips:
Recruit online with

Doximity Talent Finder

! To help you quickly search for veterans, the tool offers a 'Military Veteran Status' check box to view physicians who fit that criterion. Many vets have experience working for VA clinics and hospitals, too, that will be listed on the work experience section of their Doximity profile.
Be very detailed about the background, experience, and training you're looking for from a candidate. Military veterans are trained to look at the details.
Make it known that you're open to hiring veterans, whether you mention it on your website, on job posts and emails, or in other marketing materials. Veterans tend to be a close-knit community, and they might help spread the word.
Understand their skill sets. Veterans have a propensity for solving problems under high-pressure situations. They're also solution-oriented, and their quick-thinking and collaboration skills can be crucial in helping them succeed in a role.
Learn some military lingo. A veteran candidate's resume may read very differently, so you might have to help translate skills and experience into healthcare and civilian language (and vice versa).
We stand united in our gratitude for the U.S. military, and we celebrate Veterans Day with all of you. Whether you've already hired military veterans or you're just starting to recruit them, finding jobs for veterans is a unique way to offer thanks for their service.
Because veterans are also Doximity members, it might help to read this article on our blog: A Day in the Life of a Doximity Physician Member.