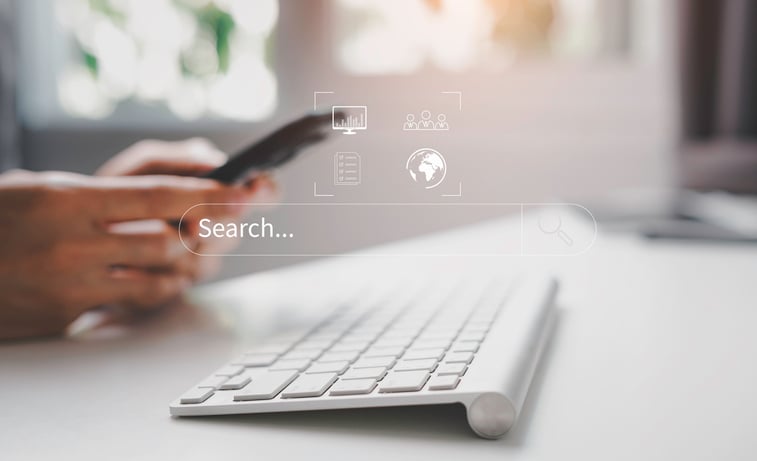 We write frequently about social recruiting and the feedback we've gotten from physician recruiters is this: you know you have to implement social recruiting, but you're still a little unsure about where to start. So we thought we'd go back to the beginning with a few basics.
What exactly is social recruiting?
Social recruiting is simply engaging with candidates on social platforms like Doximity. It's not a defined tactic or approach; it is a concept where you use the social parts of the Internet to attract and recruit talent. Think of it this way: recruiting has always been an endeavor in networking, so social recruiting in today's technology landscape adds another layer – and a convenient one at that.
Doximity Talent Finder is the platform that enables social physician recruitment on Doximity
Doximity is the largest medical network for clinicians with over 2 million health care professionals as members, including more than 80% of U.S. physicians. The Doximity Talent Finder platform enables you to tap into this physician network and find far more qualified candidates than any other social recruiting tool.
Why are so many physicians using Doximity?
Medicine has always been a team sport. Doximity provides physicians with a protected network to connect and communicate, which enables better teamwork. Through Doximity, physicians can discuss and recommend peer-reviewed journal articles and relevant medical news; network with colleagues, alumni, researchers, and potential employers; learn quickly about research underway within their specialty; earn and track Continuing Medical Education credits; and even and e-sign documents and exchange HIPAA-secure messages.
Why is social recruiting so effective for physician recruitment?
The key to social recruiting is to connect with physicians in places where they're already networking and learning. Social recruiting via Doximity Talent Finder supercharges your relationship-building process with physician candidates.
Because Doximity Talent Finder is the social recruiting platform built on Doximity, it allows you to discover and connect solely with physician candidates – versus combing through broad social networks. You can use a targeted and personalized approach to introduce physicians candidates to appealing practice opportunities. Social recruiting via Doximity Talent Finder also establishes trust and confidence, something that physicians, who've grown weary of faceless "spam" emails, appreciate.
The primary goal of social recruiting is to use profiles and insights from online networks to identify the best candidates for your openings, then make connections that build your candidate pipeline.
Naturally you want to engage physician candidates, but that's simply the beginning of your relationship-building process. Hiring (and beyond) is where all physician recruitment roads lead.
Recruiters who are using social recruiting now credit medical networks like Doximity with improving the physician recruitment process in several ways.
Candidates are more likely to be interested in an opportunity at an organization where they know people – and a network like Doximity helps you uncover those connections. A candidate is also more likely to respond to a recruiter who has a clear understanding of what they do and why a role is a great fit for them. Doximity provides that very information you need to connect with that candidate in a more personalized manner.

Start with your recruiter profile
When you use Doximity Talent Finder, you have a physician recruiter profile that candidates can view when you reach out to them with opportunities. Your profile picture portrays your online brand identity, so use it wisely. Include relevant certifications and experience. We also highly recommend that you use a current, professional headshot. Profiles with no photo, or profile photos with a non-headshot (like photos of your family or team) or company logo, receive fewer responses on average.
Beyond networking opportunities, what are other reasons for the success of social physician recruitment?
Social recruiting via Doximity Talent Finder makes it much easier to approach candidates. Plus, it's far less intrusive than phone calls or mass emails. Online professional profiles are also a treasure trove of information about candidates. Don't just skim a physician's Doximity member profile, check to ensure their skills, interests, presentations, and/or publications are relevant to your opportunities. This is sourcing at its finest.
Data is key to social recruiting

Analytics – the practice of gathering electronic data and then analyzing it in order to determine what works best – enables you to know what's working and what's not working. Without analytics, you're not able to optimize the return on investment (in time or hard costs) for your efforts.
Click-Through Rate (or CTR) is one critical metric that allows you to measure engagement based on which candidates click on a specific job opportunity. The CTR of a job post or Doximity DocMail, for instance, will help you understand which headlines or subject lines are working. CTRs offer insight on which messages or calls to action are most effective – or not effective at all.

Social recruiting is critical for attracting passive job seekers

According to a survey by the New England Journal of Medicine, 86% of physicians are passive job seekers. If you're only focusing on active candidates, you're only reaching 14% of the U.S. physician labor pool.

Social recruiting makes exposing opportunities to this broad pool of available talent much easier, though, because you can reach candidates who aren't actively searching but are the perfect match for your opportunity.
Provide relevant content

When you recruit socially, you have an opportunity to share content – articles, videos, news clips, etc. – that pertain to the personal and professional interests of physician candidates. As you build your recruiter profile page, think about including links to relevant and engaging information (such as blog posts or articles) as this can help build a candidate's trust in you.

Physicians are mobile & your physician recruiting should be mobile

At its core, mobile recruiting recognizes that physician candidates are no longer sitting in front of a computer. As many as nine in ten healthcare providers are using smartphones, and nearly as many have adopted tablets – that means you need to share content that is optimized for mobile devices.
Social recruiting benefits recruiters & physician candidates alike
By using Doximity Talent Finder to source and recruit physicians, recruiters can communicate with candidates in a place where they're already networking and learning. Recruiters can source candidates based on data from their profiles, so opportunities are a better fit. Recruiters can also source candidates based on the kinds of information candidates are sharing on social networks and via their Doximity profile. Even if a candidate doesn't know a recruiter, he/she might be connected to someone who does.
Curious to learn more about how you can leverage social recruiting to find the best candidates? Check out our page on What is Social Recruiting and Download our guide for additional tips!