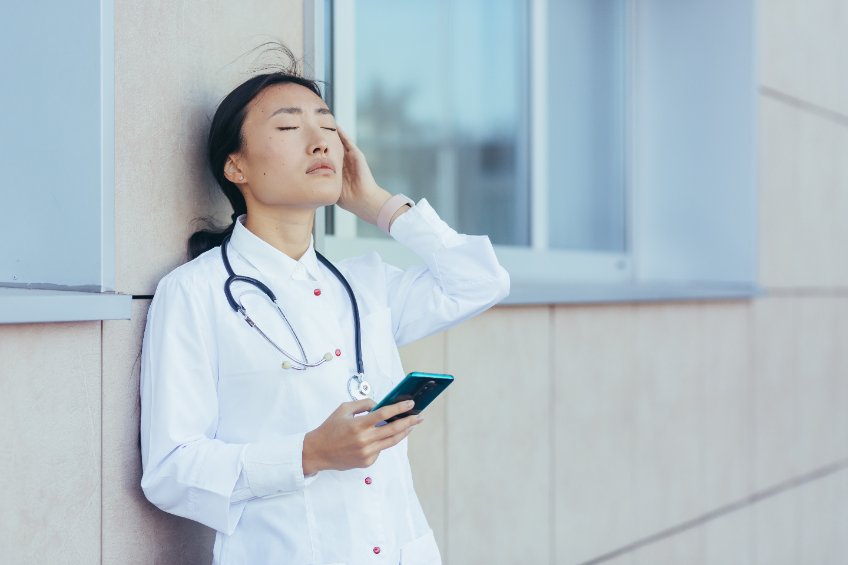 Even before the pandemic, physicians and other healthcare workers were facing burnout. In fact, the U.S. Surgeon General recently reported that 54% of doctors and nurses were experiencing burnout before COVID-19, with nearly 66% of nurses considering resigning.
While both men and women healthcare workers are experiencing burnout, women – who often assumed more childcare responsibilities during the pandemic – have been the most impacted. According to Doximity's 2021 Physician Compensation Report, 25% of surveyed women physicians reported they have considered early retirement due to COVID overwork.
According to Becker's Hospital Review, burnout among physicians has increased in many specialties, including emergency medicine, with 60% of these physicians reporting burnout now versus 43% in 2021.
Physician and healthcare worker burnout can have significant implications on our healthcare system. Here are some ways physician recruiters can support physicians during this challenging time:
Be conscious of the amount of paperwork you send physicians and the time needed to complete and return those documents. The recruiting and hiring process often requires significant paperwork, which physician recruiters can help make more manageable for busy physicians. For instance, can you limit paperwork and communication to one channel? Establishing the best way to communicate with physician candidates upfront and respecting their preferences can help ensure a more effective and enjoyable process.

Be flexible with interview schedules. Physicians can't always adjust their schedules. Some work 12-hour shifts and may need to schedule interviews early in the day or later in the evening. Don't force interviews into their busy day. It's counterproductive and could add to their stress level and workload.

Go to bat for candidates with hiring companies and managers. Elevate physician needs by identifying what they need to achieve a rewarding career and sustainable work/life balance. Benefits like paid sick and family leave, rest breaks, evaluation of workloads and working hours, educational debt support, and family-friendly policies, including childcare and care for older adults, are recommended by the U.S. Surgeon General's Advisory.

Encourage leadership on the hiring side to commit to services or trained professionals who can help address burnout. Many hospitals and healthcare organizations offer comprehensive help for their healthcare workers. For example, the Lindner Center of Hope at the University of Cincinnati provides a private, rapid service for physicians needing psychiatric evaluation, including 24/7 availability for crisis situations in which a physician would need hospital admission.

Establish and maintain trust with candidates. Relationships are essential for your pipeline, and trusted, long-term relationships can be helpful for physicians, too. By establishing trust, recruiters can better support physicians' long-term career goals and objectives – a key step to ensuring more fulfilling physician careers.
Reaching physician candidates can be challenging. To help you connect with physicians on Doximity Talent Finder, we've introduced Proxy Lines – yet another way of communicating with physicians while allowing them to apply for jobs without fear of giving up their permanent phone numbers. Join us for a special training session on August 9, 2022, and we'll walk you through everything you need to know about Proxy Lines and how to incorporate this new feature into your recruitment strategy.