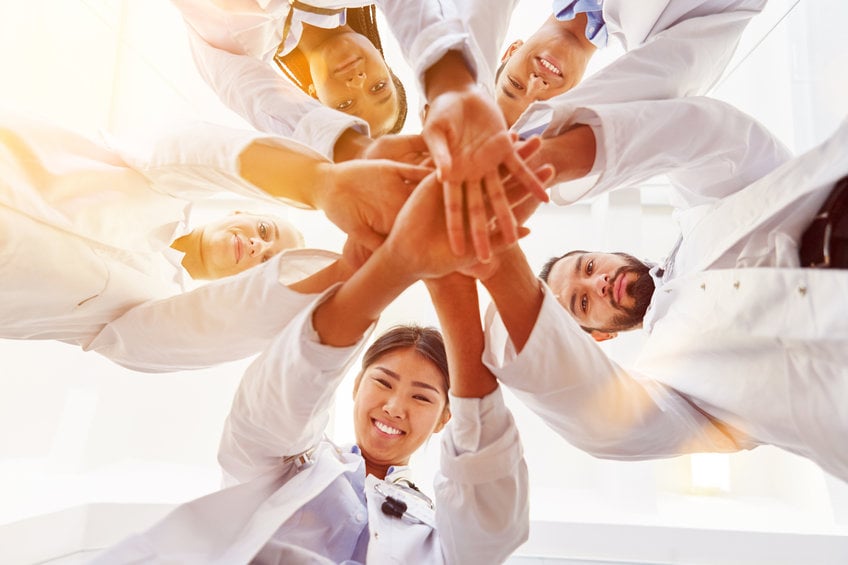 This week, we're honoring hospitals and healthcare organizations for National Hospital Week, sponsored by the National Hospital Association. This year's theme – "We Are Health Care" – resonates with our team at Doximity. Our mission is to help physicians be more productive so they can provide better care to their patients. Empowering healthcare leaders is our passion and our purpose. We are honored to work with esteemed doctors, nurse practitioners, physician assistants, and physician recruiters every day. Each of these professions is critical to our health care system and key to achieving the greater goal of National Hospital Week: supporting and connecting with communities.
To recognize the 5,000 hospitals, health care systems, networks, and others who provide care to their community, we're sharing a couple of stories sure to inspire you.
One of these stories is about the compassionate nurses at Sentara Health in Virginia Beach, who went above and beyond to help first-time father William Mckendree, a deaf man whose wife was having their first child. According to a news story by 13News Now, Mckendree relies on cued speech and lip-reading to communicate – something that was impossible in the pandemic due to everyone wearing masks. His wife, Jennifer, says the medical staff would talk to them, and she'd have to translate everything they were saying.
"The birth of a child is a memorable event. You never forget it," noted one nurse. So, they sprang into action, creating see-through face masks so the father could read their lips and communicate with them during the birth. They made enough face masks for all of the Mckendrees' nurses. The couple was thrilled, and because the Sentara nurses went the extra mile, baby Cooper's father didn't miss a thing.
Then there's Dr. Jared Johnstun, a pulmonary and critical care doctor whose team saved Michelle Liechty, a patient who showed up at St. Mark's Hospital in Salt Lake City with Covid just before Christmas in 2021. According to KSL News, her condition was critical, and Dr. Johnstun was worried she wouldn't make it. Liechty expired three times in front of health care workers, but the team at St. Mark's was able to revive her. Unbelievably, she kept improving and had a great attitude despite the traumatic experience she endured. She spent 41 days in an intensive care unit and walked out of the hospital 70 days after being admitted to St. Mark's.
Becker's Hospital Review just released their annual list of the 150 top places to work in healthcare in 2022. Honorees featured on the list rank high for several criteria, like offering benefits and opportunities for employees to build successful careers above and beyond the average healthcare provider or company. Most notably, though, Becker's also took community impact into account – and that's precisely what National Hospital Week is all about: celebrating the hospitals and healthcare organizations supporting and connecting communities.
As we celebrate National Hospital Week and the #WeAreHealthCare campaign, we hope you're inspired to thank the doctors and colleagues you work with every day. Your work as a physician recruiter is also woven into the fabric of the medical profession, and your efforts can make an impact on health care's ability to serve our communities.
At Doximity Talent Finder, we are honored to work with hospitals and health systems to help them achieve their recruitment goals. To read more about the success hospitals and health systems are finding with Doximity Talent Finder, check out our client testimonials.