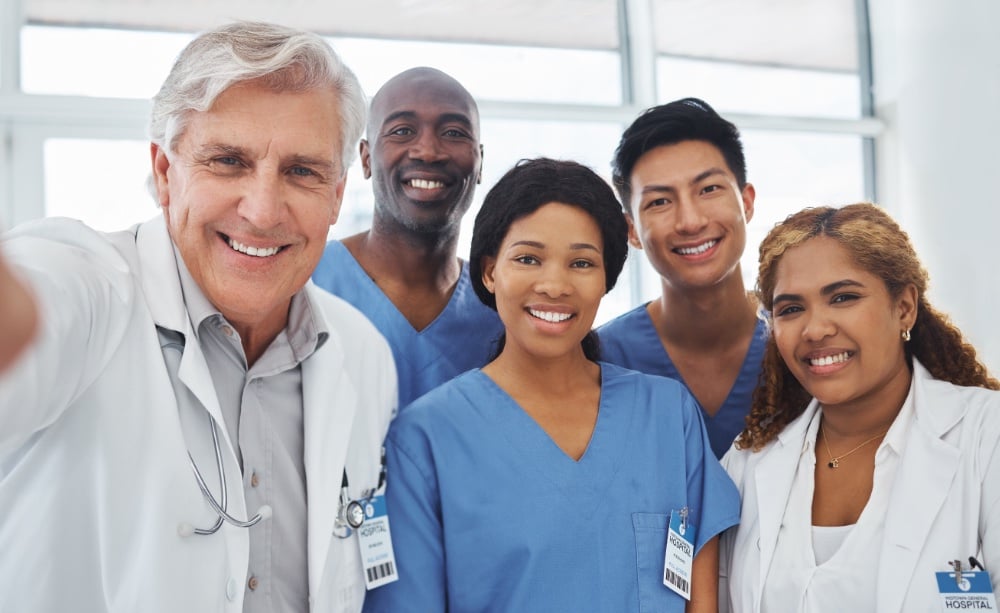 As we celebrate National Hospital Week and the ongoing #WeAreHealthCare campaign, we want to acknowledge the remarkable people who help hospitals thrive. From surgeons, physicians, and advanced practice providers to EMTs, therapists, pharmacists, and volunteers, to the recruiters who help hospitals hire great talent – you are health care. You demonstrate daily courage, making decisions and taking quick action in everyday and critical situations, and you deserve a tribute for having a hand in the care of so many Americans.
To recognize the hospitals, health care systems, networks, and others, we're highlighting five facilities making great contributions to their communities:
#1 - Loma Linda University's Children's Hospital (LLUCH) in San Bernardino County, California is the only Level 1 pediatric trauma center in the region and manages a high volume of critically ill trauma patients. Common causes of traumatic injuries in children include falls, car crashes or other forms of transport, abuse, sports injury, and firearm-related injuries.
When any trauma patient is rushed to the emergency department, time is of the essence. Doctors, nurses, and operating room staff must be ready immediately to stabilize and treat critically ill trauma patients.
To prepare and plan, LLUCH hosts mock trauma drills with real-life scenarios designed to give hospital staff the necessary knowledge and skills to prepare for every emergency. Pediatric neurosurgeon Tanya Minasian, DO, FASC, who has been running the mock drills since its inception, says, "the staff has often said that the mock drills might be even more stressful than real life, just because we throw in a lot. Anything that could go wrong does go wrong in the mock drill, and that's done on purpose."
After drills take place, the participating teams gather to debrief and discuss strengths and weaknesses that always help with process improvements that are put into place immediately. Last year, LLUCH treated more than 250 patients with head injuries, of which nearly 20% required surgery.
#2 - Chemotherapy and radiation can take a toll on cancer patients. Chemo, in particular, can exacerbate heart and blood pressure conditions. That's why Novant Health Heart & Vascular Institute involves cardiologists early to ensure that patients don't have any side effects or at least control them. Cardio-oncologist Kris Swiger, MD, says, "In the last ten years, we've had all these new medications that have really given people a chance, but a lot of these medicines – the new targeted therapies – injure the heart in different ways." Dr. Swiger adds, "If they do, we can manage them so the patient can finish their chemotherapy, that's the goal: get rid of the cancer."

Novant has also implemented a post-chemo cardiac rehabilitation program to help cancer patients regain stamina and endurance. This type of program is recommended by the American Heart Association and the American Cancer Society for cancer survivors who often feel worn down. "I see a lot of survivors who have finished treatment who, at that point, need to shift focus to preventing heart disease," says Dr. Swiger. "We focus on wellness and getting their endurance back."

#3 - Children's Hospital of New Orleans is proud to focus on pediatric patients, and that extends beyond the hospital. Maria Isabella Pontoriero, a licensed social worker at the Audrey Hepburn CARE Center at Children's Hospital New Orleans, works with human trafficking survivors and trains community members in response and prevention. Her work and experience in the field have given her remarkable insight into the impact of social media on the lives of children and teens. She conducts Facebook Live sessions for colleagues and parents about the dangers of social media and how to talk to kids about it. She also wrote an article on the subject.

"In my conversations with parents, I always like to acknowledge that it's not easy raising children in the era of social media, " Pontoriero says. "Online predators use social media, too. They use popular online platforms to recruit victims for sexual abuse and other forms of exploitation. As caregivers, it is essential to build a foundation for your kids early and teach them the possible warning signs of online exploiters."

#4 - To expand patient access to its specialty pharmacy services, Michigan Medicine, the top-ranked hospital in the state, is implementing innovative prescription drug delivery by drones, debuting in 2024. The quick and quiet drones are programmed for ultraprecise deliveries in rural, suburban, and even densely urban areas and can land on areas as small as a patio table. According to Marschall S. Runge, M.D., Ph.D., CEO of Michigan Medicine, dean of the U-M Medical School, and executive vice president of medical affairs, "We are always looking for innovative, sustainable improvements to serve our patients." Dr. Runge adds, "the drones will make deliveries faster than ever before, saving time for both patients and our medical workers, enabling faster, affordable pharmacy care that leads to better patient outcomes."

#5 - Nationwide Children's Hospital is a nationally ranked pediatric acute care teaching hospital located in Columbus, Ohio, that walks the walk to fulfilling its promise: "When your child needs a hospital, everything matters."
Designed to help patients and visitors forget they're in a hospital, "purposeful distraction" is the name of the game at this hospital, which you can see in the vibrant gathering space called The Aviary. It features large-scale wooden animals carved by local artisans, as well as a three-dimensional soundscape of spring rain, wind blowing through treetops, and a flock of birds flying away. The space also contains The Magic Forest, an area designed as a respite for staff and visitors to relax and escape the stress of illness. The Forest has tall trees, acorn-shaped lamp posts, and a three-dimensional soundscape of forest activity. Overhead, an LED stars-scape twinkles through the tree canopy. The colorful spaces, designed with children in mind, live up to their magical names.
The level of care that all caregivers working in hospitals provide has earned the genuine appreciation of everyone at Doximity. If you want to make a health care professional's day, we recommend thanking someone in healthcare this week.
At Doximity, we are helping physicians be more productive so they can provide better care for patients. We know productivity is essential for physician recruiters, too, which means working smarter, not harder. We invite you to read our 7 Time-Saving Tips for Physician Recruiters now.